Our customer, Cherkizovo Group, one of Russia's largest meat producers, won the SAP Innovation Awards 2019 in the "Digital Traiblazer" category for a fully automated manufacturing plant in Kashira in the worldwide finals.
Automated and robotized Industry 4.0 plant, completely managed by SAP S/4HANA and Food industry solution by the Sabris company, is the only project from Russia and CIS countries to receive this prestigious worldwide award from SAP.
Companies that have significantly changed their business using the SAP platform to develop new business models, use innovative technologies, open new markets, or radically change product or service delivery have been nominated in the "Digital Trailblazer" category.
Executed by Cherkizovo Group in collaboration with SAP and Sabris, this exceptional project will be presented alongside other winning projects in Orlando, USA in May 2019 at the largest SAP SAPPHIRE NOW annual conference with more than 20,000 SAP customers and partners across the globe. The project will also be presented in the Czech Republic at the SAP NOW conference. The smoked sausage plant is one of the most automated manufacturing companies in the world. Most of the work there is done by artificial intelligence, from initial planning, raw material storage, production, shipping to subsequent evaluation. The effect of human factor is thus minimized. About 700 people work in this type of plant, while Cherkizovo only employs 200 people. The concept of managing robotic devices by a single control system will be used by the Cherkizovo Group as a basis for other manufacturing sites.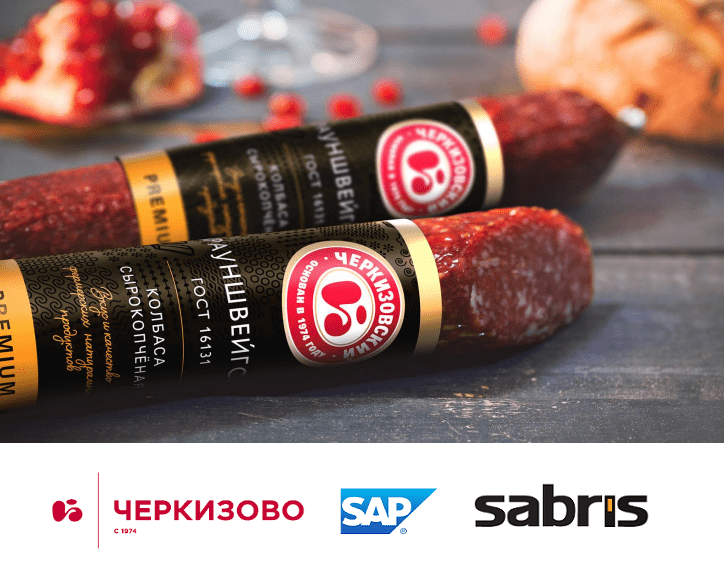 Vladislav Belyaev, Head of IT at Cherkizovo Group: "This project is yet another proof that Russia's agricultural industry uses world-class innovative solutions to deliver outstanding results and superior products."
Sergey Ryzhov, Head of Business Developmentat Cherkizovo Group: "We have combined traditional technologies and automation, IoT and AI to use resources rationally, achieve the highest quality standards, and ensure full transparency of the production chain. This project is set to become an industry benchmark for the next ten years."
"We are pleased to have been part of building a plant of the future for the Cherkizovo Group. Here, Sabris has used its many years of expertise in meat processing, including the production and distribution of smoked sausages, and thanks to its own industry solution, S2AP for Food, which supports the connection of state-of-the-art technologies and robotic production lines, and a unique implementation methodology, it has proven to be a recognized SAP platform supplier for the food industry globally." Vladimír Sýkora, CEO and Chairman of the Board, Sabris Holding, SE.